Ashley Will, L.Ac., DOM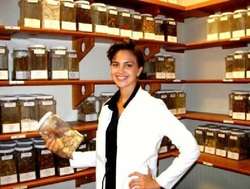 Ashley Will is a Doctor of Oriental Medicine. She is a Nationally Board Certified, Licensed Acupuncturist and Herbalist specializing in Acupuncture, Herbal and Nutritional Therapies. She holds three degrees in Nutrition for Dietetics, Health Sciences and Oriental Medicine. Earning a degree in Oriental Medicine requires five academic years of rigorous training as mandated by the ACAOM and NCAOM, a process she completed at an accelerated pace in just 4 years from East West College of Natural Medicine in Sarasota, FL. In addition to graduating Summa Cum Laude, Dr. Will served as Vice President of the school's local chapter of the American Association of Acupuncture and Oriental Medicine in which she helped petitioned the state and federal governments for acupuncture rights. Dr. Will completed her residency at Health South Rehabilitation Hospital, one of the nation's largest healthcare providers specializing in rehabilitation. She has successfully treated a wide range of medical conditions including back pain, sciatica, cervical injuries, arthritis, menopause, infertility, endometriosis, digestive disorders, sinusitis, anxiety, weight loss, stoke sequelae and more. In her practice, she utilizes treatment modalities including acupuncture, herbs, electric stimulation, cupping and gua sha.

Dr. Will was born and raised in Pennsylvania. After spending time in Atlanta and Sarasota she has recently relocated to the DC area. She enjoys hiking with her dog, biking, dancing and healthy cooking. Her passion for Oriental Medicine stemmed from personal experience. After chronic allergies and digestive issues were left unresolved despite numerous attempts with conventional medicine, she turned to Oriental Medicine where she discovered a whole new way of life. She got great results and decided from there that this is what she wanted to dedicate herself to. She has a strong passion for medicine and helping others. Dr. Will believes in a holistic healthcare model which addresses the whole person aiming to treat the very root of the problem versus just managing the symptoms. She is committed to patient care and welcomes any questions about Acupuncture or how her services may be of benefit to you.

---

Ashley Will, LAc
Acupuncture & Herbal Healing Center
now located at Skyline Wellness Center
4300 King St, Suite 130
Alexandria, VA 22302
703-879-5144
www.skylinewellnesscenter.com
Book Your Appointment Now Online!